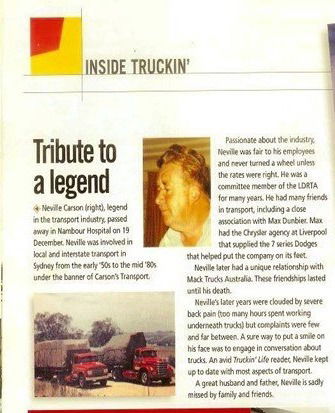 Neville Tasman Carson was born in 1921 and lived in Sydney with his Father and Stepmother. He became an apprentice carpet layer with Anthony Horden and Sons Department Store Sydney prior to enlisting. Carson's Camera goes to War tells his war story. Following the World War II, Neville married Ilma Phillis. They lived in Ilma's family home at 1 Badgery Avenue, Homebush Sydney.
Neville started his Trucking business. The Carson's with their three children moved to Cronulla. Neville had truck depots at Granville, Mascot and St Peters. Neville was a Past President of the Long Distance Transport Association.
By 1974, Neville had sold up his Trucking Business and all of the family had moved to Sunshine Coast Queensland. Neville owned the Taxi Cabs in Caloundra and upon selling, them he bought a property in Sunshine Coast Hinterland, and undertook sand mining. Ilma and Neville semi retired on a small avocado farm at Woombye in the 1980's and then returned to Caloundra to fully retire in the 1990's.
There is a Tasmanian angle to his story. My father was born in 1921 in Sydney and was given the name of Neville Tasman Carson. Vey late in life he found out that he was illegitimate and his Tasmanian mother was 14 when Neville was born. I have connected with the extended family and in some ways solved a few mysteries and family myths.
Included on the this page is an article written by his eldest son on the death of Neville.
Below are small titled stories that encapsulates Neville's character.
Bludger
- In the 1930's, as employees of Anthony Hordern and Sons, Neville and another carpet layer were given the job of laying carpet at the Carrington Hotel Katoomaba NSW. A customer of Anthony Hordern and Sons approached them and asked Neville, if he would lay the carpet in his house when they finished their day. Neville and the other carpet layer said yes, thinking they could earn extra cash. To their dismay, at the completion of the job, the home owner said to put it on his Anthony Hordern and Sons account.
Married for 60 years -
Neville and Ilma for their honeymoon went wheat carting at Wellington, New South Wales. They lived in a hut. Neville looked up and saw Ilma running across paddock to him and yelling their is a snake in the bathroom. Neville's reply was how many snakes do you think you stepped over getting here. They have three children and two grand children.
Two licenses
- Neville thought he was going to pulled over on a business trip. Mum and I were with him. Dad was going to present his second licence which had a fake Canberra address. Neville could not remember the address on his fake licence. But had a plan that he was going to tell the Copper he could not remember the address and there is no point asking them because that is not my wife and daughter.